Features
Durable Polyurethane Soles
Flexible
Full Grain Leather
Hollow Heel
Intricate Detailing
Lightweight
Non-Slip
Zero-Drop Design
Wingtips are perfect for dressy-casual situations like a night out with your friends or a date night. They're also great for office environments that are more relaxed, such as in tech companies. You can match wingtips with anything from jeans/chinos and a collared shirt to a grey suit. Black wingtips are also generally considered a bit more dressy than its brown cousins.  
How much does shipping cost?
For customers within the USA, shipping is FREE! You'll typically receive your order in 3 to 5 business days.
If you need your order sooner, we can do that too:
For 2 to 4-day shipping, it's $15.
For 2-day shipping, it's $25.
Do you ship internationally?
Yes, international shipping costs $27 and typically takes between 5 and 12 business days.
How does your 365-day "Test Drive" policy work?
Wear your Carets around - yes, even outside! - to determine whether they're right for you. You have 365 days to decide if you want to keep your new shoes or return them for a full refund. Read more about how it works here.
What is your return policy?
If you want to return your Carets within the 365-day period, just make sure the shoes are clean with no scuffs or irreparable damage. Send them back to us and you'll receive a full refund!
Care for your Carets by using a shoe cream that allows for conditioning, shine, and water resistance. We recommend Saphir Médaille D'Or Shoe Cream which is made from all natural ingredients.
Use a shoe horn to slip on your shoes whenever possible.
After wearing your Carets, properly store them by slipping your complimentary shoe trees inside to help maintain their shape.
As with all leather, try to avoid water, mud, snow, and salt. If your Carets get dirty, clean them off as soon as possible.
Be sure to rotate your Carets with other shoes, as even the nicest dress shoes can wear out from constant use.
Despite their comfort, try to refrain from exercising in your Carets!
These are our most frequently asked questions from customers. If you don't find the answer to your question listed below, please visit our full page of FAQs.
Features
Durable Polyurethane Soles
Flexible
Full Grain Leather
Hollow Heel
Intricate Detailing
Lightweight
Non-Slip
Zero-Drop Design
Combine the best of both worlds with Carets
Customer Reviews
08/08/2020
Dan S.
Canada
game changing shoes
This is my second pair of Carets...the shoes are just as comfortable as the others I've owned for years. The look of these shoes is what stands apart. They are GORGEOUS!!!
08/01/2020
Jeff H.
United States
Great shoes!
I really like the shoes after I got the correct size. I still believe a half size would be perfect on my foot as the full size bigger is too large and the size I've kept is just a hair narrow for my wide feet. They're very comfortable shoes. I kept the expanding laces except got a system that locks them with no bow and they look amazing. I wear them for all day in the cockpit and walking around. All around good shoes.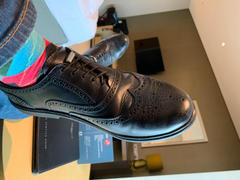 07/20/2020
Derek O.
United States
Comfortable and sleek
Unfortunately, due to Covid-19, I have not been able to wear them much as I've stopped going to the office and going out socially. Nevertheless, they are beautiful, well-made, and comfortable. I bought a pair three years ago, and I've recently bought another two pairs (black & burgundy), and will consider a third pair depending on any further bargain prices.
04/11/2020
Christopher R.
United States
Love them
I had a good idea of what I was going to get since I have an original pair of primal professionals. But the quality and comfort has improved even further, and I can say that this is the most comfortable dress shoe I own. When I first put them on, I was a little worried because the extra material for the wingtip felt like it was going to be uncomfortable with each step. After walking around for a few minutes, it immediately passed. Excellent shoes, and they will not be my last pair of Carets.
04/03/2020
Dan
United States
The best minimalist shoes out there
I ordered a pair of the falcon wingtips in cacao. They are comfortable and look great. The hollow heel, triangular cuts along the sides of the outsole, and wide/tapered toebox are unique design points that set these apart from every other minimalist/barefoot dress shoes I have come across. The materials and construction appear to be top notch. These are perfect for my business casual attire at work.