Features
Durable Polyurethane Soles
Flexible
Full Grain Leather
Hollow Heel
Intricate Detailing
Lightweight
Non-Slip
Zero-Drop Design
Perfect for the office or happy hour with friends, our cap-toe Fer Oxford is a beautifully versatile dress shoe. Thanks to a healthy, zero-drop design, you won't mind walking from work to dinner in these minimalist Carets. Our rich oxblood color pairs with your clothes just as a black or brown dress shoe would, from your nicest suit at more formal affairs to jeans for a smart casual look. The Fer's cap-toe appears to cinch the toebox, giving it a sleek appearance. Like all Carets, these shoes provide a comfortable feel and classic style.
How much does shipping cost?
For customers within the USA, shipping is FREE! You'll typically receive your order in 3 to 5 business days.
If you need your order sooner, we can do that too:
For 2 to 4-day shipping, it's $15.
For 2-day shipping, it's $25.
Do you ship internationally?
Yes, international shipping costs $27 and typically takes between 5 and 12 business days.
How does your 365-day "Test Drive" policy work?
Wear your Carets around - yes, even outside! - to determine whether they're right for you. You have 365 days to decide if you want to keep your new shoes or return them for a full refund. Read more about how it works here.
What is your return policy?
If you want to return your Carets within the 365-day period, just make sure the shoes are clean with no scuffs or irreparable damage. Send them back to us and you'll receive a full refund!
Care for your Carets by using a shoe cream that allows for conditioning, shine, and water resistance. We recommend Saphir Médaille D'Or Shoe Cream which is made from all natural ingredients.
Use a shoe horn to slip on your shoes whenever possible.
After wearing your Carets, properly store them by slipping your complimentary shoe trees inside to help maintain their shape.
As with all leather, try to avoid water, mud, snow, and salt. If your Carets get dirty, clean them off as soon as possible.
Be sure to rotate your Carets with other shoes, as even the nicest dress shoes can wear out from constant use.
Despite their comfort, try to refrain from exercising in your Carets!
These are our most frequently asked questions from customers. If you don't find the answer to your question listed below, please visit our full page of FAQs.
Features
Durable Polyurethane Soles
Flexible
Full Grain Leather
Hollow Heel
Intricate Detailing
Lightweight
Non-Slip
Zero-Drop Design
Combine the best of both worlds with Carets
Customer Reviews
High quality and great customer service
I was very impressed with the presentation. The box, covers, trees exuded quality, care and love from the get go. Then, the quality and craftsmanship of the shoes and even the laces ! I am still crazily enough on my first pair of laces and I wear these to work ! The leather and construction are solid and to this day the shoe looks great. I have been an airline pilot for 20 years. Until I found I found Carets, I had enormous difficulties finding comfort in a required hard black leather shoe that is required of me under my uniform guide lines. The normal swelling that occurs with flying and sitting would cause nagging discomfort to the point of distraction (not good for pilots). However, Carets completely eliminated this discomfort. The shoes eliminate painful pressure points caused by years of abuse with traditional tapered shoes. Carets are so comfortable for me, that I often tell people even when I come home from a 12 hour day of work, I don't feel the need to take them off !! When can you say that about a dressier shoe ? I am also, an avid barefoot shoe technology guy so this concept fits great for me. I wear natural foot gears correct toes all day in these shoes as well. Last but not least, great customer service-patient, accommodating, caring, professional and competent. Excellent communication with newsletters. Exciting to watch a small company grow and prosper !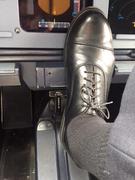 07/27/2020
David K.
New Zealand
Great Shoes
I enjoyed wearing them. I must confess I was a little doubtful over the "most stylish minimalist shoes", but I am not now that I have them. They are definitely elegant and truly minimalist. Just a little bit heavier than other minimalist shoes. I was also concerned by the sizing, but after I followed the chart size given on the website, I received the correct size for my feet. The only thing which bothers me now is that it is tough to find some Saphir cream to maintain them. :-)
06/16/2020
Joseph H.
United States
Great Shoes
I'm a flight attendant and work on my feet all day. These shoes are incredibly comfortable and good looking. I'm so glad I found this option as I always ended up with plantar pain in my other Cap Toes and didn't want to wear zero drop tennis shoes with my uniform.
04/27/2020
Anders S.
Sweden
Style and comfort combined
I'm very pleased to finally have found a minimalist, zero drop shoe that's comfortable without having to compromise on style. It wisely does not attempt to pull off a pointed look which would never look good with a wide toe box, but rather embraces the classic rounded almond shape for a traditional look. Hardly a snug look, but very allround, and with a level of comfort that allows you to wear it every day. The fake heel is genius and really gives it an edge over other minimalist dress shoes. The leather quality and stitching is flawless. I happily recommend it to anyone looking for a proper-looking dress shoe that you can wear long term without compromising your feet or joints.
04/15/2020
Nelson
United States
quality, style, and comfort, can't be beat.
I love my Carets shoes. I have two pairs and will likely pick up a third once the quarantine is over. I was forced to spend most of my professional hours in narrow, heeled, traditional professional shoes. These were completely contradictory to my otherwise barefoot/ minimalist shoe existence and were ruining my feet as well as causing me back-ache. Then I ordered a pair of oxblood FER cap-toe...game changers. I'll never go back to any other professional shoes. The combination of quality, style, and comfort, can't be beat. While they are more expensive than my old shoes, they are worth every penny.